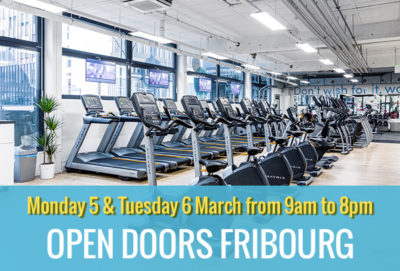 open doors FRIBOURG
We are happy to announce that on December 19th, 2017 we opened our first club in Fribourg. The club is located at Boulevard Pérolles 7, in the Rex Galeries 200m from the train station.
For this occasion we invite you to our 2 days of Open House on Monday, March 5th and Tuesday, March 6th from 9am – 8 pm.
We look forward to present you our new training space. Our coach Maxime will be available for your questions and for your personal training advice from 10am – 5 pm.
During these two days you can train at the club for free and test the facilities, there are also small group classes of 30 min at 12.30pm, 2.30pm, 6.30pm. Among all the visitors during these days we will have a lottery with attractive prizes, such as a free month of training.