BOOST YOUR TRAINING
AN INNOVATION – AT CORNAVIN TRAIN STATION
Our first boost club opened on July 1st. Discover now the exclusive advantages of Cornavin boost.
You'll recognize all the key advantages of NonStop Gym : 24/7 opening hours, all the essentials for your training, clean and fresh clubs. But there'll be more …
More supported, more connected, more performant.
NonStop Gym is evolving, the Boost concept will propose more comfort and even more quality training. Beside free sports water, increased staffing of our coaches, here are the extras that will be exclusive to NonStop Gym Boost at Coranvin.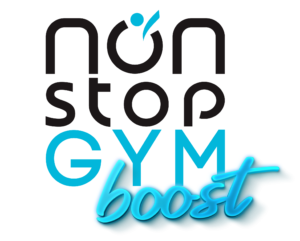 A revamped functional area, with all the equipment to accompany you and programs to inspire you every hour 24/7.
COACH LED SESSIONS
Small group classes of 45 min lead by a coach. A different program each day for all levels and all training styles.

PLATE LOADED MACHINES
A range of plate loaded machines, including the most demanded by our members : Incline Bench Press, Shoulder Press, Lat Pulldown, Smith Machine, 45° Leg Press, etc.
CONNECTED CARDIO MACHINES
All cardio machines will be connected to your favorite apps, to track your results or for pure distraction (iWatch, YouTube, etc).
WELCOME TO
THE BOOST ZONE
Our first Boost Zone : 200m2 dedicated to functional training.
Small group trainings lead by a coach during peak hours, or via screens to motivate you regardless of the hour, 24/7.
Programs start half past every hour (00:30, 01:30 etc) and last 45 minutes. Each day it's a different program, to satisfy all. COMPLETE PLANNING

MONDAY
07:30 | 12:30 | 18:30
TUESDAY
07:30 | 12:30 | 18:30
WEDNESDAY
07:30 | 12:30 | 18:30
THURSDAY
07:30 | 12:30 | 18:30
FRIDAY
07:30 | 12:30 | 18:30
SATURDAY
10:30 | 14:30
SUNDAY
10:30 | 14:30
BOOST
MEMBERSHIP
The BOOST club has opened on July 1st, the annual membership price is 69.-/month, the monthly membership costs 89.-/month. Your BOOST membership will give access to the new Cornavin club, as well as all other NonStop Gym clubs.
ALREADY A MEMBER ?
BOOST YOUR MEMBERSHIP
Your current membership will not give you access to the Cornavin Boost club, but you can BOOST your membership 🙂 we'll add +20.-/month on your current membership until it's next renewal date.

BOOST your membership via this form or pass by our Cornavin club, during staffed hours.
I want to BOOST my current membership »